At Drexel Mitchell Photography, we are always striving to provide the best service to the brides (and grooms) we can. We value providing couples that we speak with the power of information, not only about wedding photography in Atlanta, photographers, and wedding photography prices, but we love helping to enhance the brides day by providing tips, best practices, and top notch vendor referrals that help make this day, the best experience of their life. To help provide another vehicle to brides, we have created The Top 10 Wedding Photography Questions Brides Ask.
Enjoy.
1. What is the average wedding photographer price?
Here in Atlanta, this is one of the top used search phrases from Google to our website over the last 12 months.
The average price of wedding photography varies greatly depending on the region of the country you are located in. I know of wedding photographers in New York that charge upwards of $50,000 for celebrity weddings and some that charge as little as $5,000 for the average wedding in New York.
The Knot, Wedding Wire, and other publications suggest that Brides should expect to spend 10-15% of your total budget on Photography. The Knot also reported during 2012 that a bride's average wedding photography price in Atlanta was $2,400 BUT 37% of Brides spent more than $2,500 on their wedding photography.
From personal experience, I feel that this old adage "You Get What You Pay For" really applies when it comes to Wedding Photography.
Short Story – A couple at my church asked me to provide their wedding photography services but they only had $500 to spend. I indicated to them that I could not provide 6 hours of wedding coverage at that price. I told them I would provide them a discount because there were members of the church but that price was dramatically below what I could offer. They proceed to hire a wedding photographer for what they felt was a GREAT deal at $400. A few weeks after they received their images back from their wedding photographer, they indicated that they were so disappointed with the pictures. They also indicated how much of a distraction the photographer was by walking down the aisle with the bride and standing on stage with them in full line of sight (because he did not have the right equipment to position himself at a distance). The icing on the cake was that he only took 4 formal pictures of the couple after the wedding.
A quick question you can always ask a photographer that is bidding for your services is "Do you shoot your images in RAW format?", if they answer no, they are most likely NOT a professional photographer or do not own the right equipment to provide professional wedding photography services.
2. Why does wedding  photography cost so much?
A good wedding photographer will spend 3 to 4 times the amount of time in post-production touching up your wedding photography than actually taking the images. If you are paying for 5 hours of coverage during your wedding day, your above average professional wedding photographer will spend at least 20 hours editing and enhancing your images before you see them. During 5 hours of wedding coverage, DMP usually takes upwards of 1,500 images! That is a lot of editing.
Additionally, a good wedding photographer will also have to cover additional expenses including but not limited to liability Insurance, equipment Insurance, photography assistant that is with him during the wedding, 2nd wedding photographer, taxes, editing software upgrades and many other cost. Many wedding photographers on an hour by hour cost basis end up making minimum wage.
3. How much of a deposit do you require and when is it due? Do you offer a payment plan?
Typically, we request a 50% deposit to reserve the date for Wedding Photography in Atlanta.  We provide payment plans to clients that do not have the ability to provide a 50% deposit at the time of booking.
4. How far in advance do I need to book with you?
The Knot and other publications report that on average, brides book their wedding photographers 8 ½ months prior to the wedding date. Usually you want to book your wedding photographer right after you secure your venue. DMP currently has bookings 18 months in advance so the sooner the better.
5. Why do photographers suggest having a second photographer (2nd shooter) at my wedding?
Simply put, a second wedding photographer or 2nd shooter as we call them in the industry, captures those images that one wedding photographer would not be able to get. Check out the images below. During this time, I am focused on the bride coming down the aisle and the second shooter was able to capture the raw emotion of the groom when he saw the bride for the first time.
Drexel Mitchell Photography also uses a 2nd shooter to cut down on the time needed to do pre-wedding photography (i.e. The main Wedding photographer is usually with the bride as she gets ready and the 2nd shooter is with the groomsmen doing pre-formals).
6. Why do different photographers' images look so different? (one has hazy images, one has sharp and another has an old film look?
There could be a number of reasons for hazy images (in some cases, out of focus images). If the background of an image is blurred, most likely that is intended by the wedding photographer, if the sun is blazing into the camera, that could be intentional (giving the hazy look) or it could be a lack of experience by the wedding photographer.
The old film, Black and White, Polar, Antique, Sepia and other image changes like this, can be done in post-production to provide a different artistic look to the images based on the wedding photographers style or clients request. Here is an image shot in Jamaica. We transition the photo to Black and White because we loved the classic feel it provided to the photo with the bride on the steps.
7. Can you recreate that picture I saw in the bridal magazine at my wedding?
Ah, the famous bridal magazine question. "We saw this picture that I have to have at my wedding". Let me start by saying that most of the images you see in the bridal books and websites can be recreated BUT most are done with models and scheduled for that time of day or done as a part of a photo shoot that does not have the time pressures of staying on schedule for the wedding and reception. With the right planning and scheduling, capturing that special image is always possible. To the right is an image we took at a wedding in Jamaica at sunset. We scheduled everything around getting the sunset images.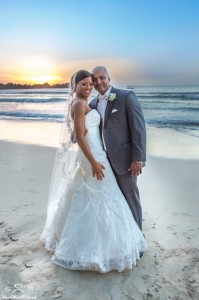 8. What is normally included in wedding photography packages?
I would say that based on my knowledge of what wedding photographers are offering currently, coverage of the pre-wedding, wedding, and reception is the standard. Drexel Mitchell Photography provides two consultation sessions, when we first meet and a final one 30 days prior to the wedding to ensure we have all the details of your wedding day locked in.
Younger couples tend to have less income, are on a tighter budget and usually are just trying to get through the wedding. We usually suggest taking on the additional expense like wedding albums, prints, canvas and other final products after the wedding and honeymoon. The normal turnaround time for final images is 2 to 4 weeks which usually gives couples time to recover and position their finances to choose their final products.
9. Should I feel a connection with this wedding photographer as well as his/her photos? Should our personalities be a good match?
If you like the wedding photography work and feel a connection that they are truly trying to determine all your needs and helping in any way they can, I would say you have found your wedding photographer. We truly enjoy what we do and love seeing the joy that weddings bring. For Drexel Mitchell Photography, there is no greater joy than providing wedding photography and capturing that special moment that the bride and groom will cherish forever.
10. Should my Wedding Photographer have insurance and what kind?
The only answer here is YES! If the person or company says no or that their homeowner's policy covers them, they most likely are a fly by night business or start up. They should also be able to provide you a certificate of insurance that shows your event is covered.
At Drexel Mitchell Photography, we not only have liability insurance, but crime and theft, employee/contractor coverage for our assistants that work with us, medical,  errors and omissions. Our Insurance also covers re-creating you wedding if for any reason we are not able to provide photography services for your wedding, cannot provide an replacement photographer to shoot your wedding or we lose the images. Our Insurance will fly all required guest back in, secure the venue and reenact your complete wedding if you choose. We want our Brides and Grooms to feel secure that we will provide the best service possible hence we have the best coverage possible.
We have provided some bonus questions we think are important to note also.
11. Should Wedding Photographers use a Contract?
If the wedding photographer says no, thank them for their time and move to your next choice. Having a contract will protect you and the wedding photographer. Verbal agreements don't hold up in court. We at Drexel Mitchell Photography always use a contract and provide you a statement if you are making payments for your coverage so you are always informed on where you stand.
12. Why Should I Hire a Wedding Planner?
I hear this question a lot from brides.  I am going to let one of the true expert wedding planners I know give you the true answer to this one.
Ms. Janel Elise of Janel Elise Events does Planning and Event Design for small to large events including the smallest weddings to largest corporate events at a reasonable price I might add. Why should Brides hire you.
1 – SAVES TIME – the average couple spends about 200 hours planning their wedding. Hiring a Wedding Planner will save you time and energy! A good planner will be able to recommend vendors that match your wedding style and budget, and help you come up with creative ideas to incorporate into your wedding.
2. – SAVES MONEY – A good Wedding Planner will be able save you money by negotiating discounts and help you manage a realistic budget.
3. HANDLES ISSUES – There's no such thing as a perfect wedding, but it is the Wedding Planner's responsibility to deal with any issues that might arise.  If the cake tips over, if wine is spilled on the Wedding Dress, a good Wedding Planner will know just what to do!
4. MANAGES EVERYTHING FROM THE REHEARSAL TO THE END OF THE RECEPTION – A good Wedding Planner will be at your rehearsal to make sure everyone is lined up properly and also act as your primary point of contact for you vendor team. They'll also cue all of your Wedding Day milestones such as the cake cutting and toasts and be there with you until you're whisked away to happily ever after.
5. ENSURES DREAMS ARE MADE REALITIES – You've got a vision, but you're not sure where to start to make it a reality. There's many moving parts leading up to the big day and a good Wedding Planner will have a tried and true process, checklists and timelines to make your wedding dreams come true.
6. RELIEVES STRESS AND MAXIMIZES FUN! – You need a professional to execute all of your hard work because you don't want any stress on your Big Day. Nor do you want your friends and family setting up your reception or lugging away presents at the end of the night. It's a Wedding Planner's job to minimize your stress so you can enjoy your friends and family.
So why wait! You owe it to yourself to hire a Wedding Planner.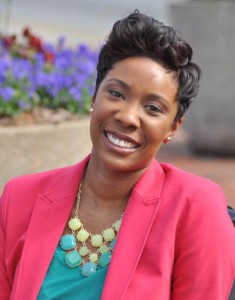 13. How many photos will a wedding photographer take?
The range of images taken depends on the length of your event and the package you purchase. We may capture several thousand images during any given event.
 14. How much do Wedding albums cost?
Wedding album costs varies widely depending on the vendor your wedding photographer uses. Again, what we have found is " You get what you pay for". Usually the lower the cost of the album, the less options you have OR the lower the quality of the album. There are different options that can lower your cost like getting a press book verse a true wedding album. Press books are like high school yearbooks. They can be very nice,  but they are printed on a thinner paper like a magazine.
One thing I would caution brides on is taking a disc of images you receive from your wedding photographer to your local CVS or Sam's club to be printed. The books, photos and canvases produced at these type establishments are of a lower quality as compared against a photographers dedicated service provider and are very noticeable. We actually present samples side by side to our clients so they understand the lower quality produced by these stores.
15. What about destination weddings, should I bring a wedding photographer from the U.S. to do my photography?
It depends on what you desire as your final product. I will use Jamaica photographers as an example. Most local destination photographers require you purchase 8×10's or some type of prints from them before they will release your images to you on a disc and then they will only release the images you purchase prints for. If you wish to create a wedding album, your expense of purchasing all the images you may want to use to create an album could be very expensive.
Additionally, most destination wedding photographers local to the area you are going will only release lower resolution JPEGs to you which are not ideal for editing in the creation of a wedding album or canvas prints. As I mentioned earlier, having the RAW files is ideal. The added expense of bringing your own professional wedding photographer from the United States will be well worth it in the end.
15. Should I ask the photographer if he carries backup equipment?
Yes, you should. Drexel Mitchell Photography always carries a backup of every piece of equipment we use. This can be expensive, but again, the insurance of being able to capture your wedding photography if a camera or flash goes bad is a small price to pay to ensure we have a fully satisfied customer.
I hope this blog post provided some details that will help you choose the right wedding photographer and planner.
Drexel Mitchell Photography Inc.